Geoengineering: In Plane Sight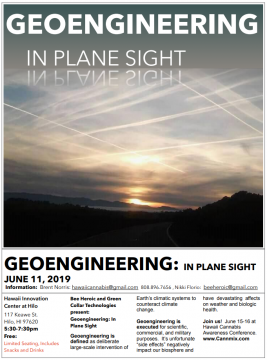 In Plane Sight – Climate Engineering, 5G, and Agrochemical – Impacts on the Islands
Bee Heroic will present on the issues and impacts surrounding geoengineering, 5G, and agrochemical practices and technologies. From large scale climate engineering, to dangerous cellular technologies, and poisoning of soils, plants, pollinators, and our skies, corporate take-over of nature is leaving Hawaii's once thriving islands, in the dust.
Bee Heroic will discuss the scope and depth of these projects as well as provide action steps that can be taken by communities to protect themselves. Join us in working to preserve the great pollen nation.
Public Welcome, Free Event, Donations Accepted. Light Pupus, snacks and drinks. Seating is limited, RSVP to reserve your seat.